1909 T206 Sweet Caporal Honus Wagner Restored Authentic – The world of "collectibles" boasts a myriad of "Mona-Lisa's" with respect to a particular hobby's most coveted artifacts is currently up for bid in Memory Lane's current auction ending December 15, 2017.  Bid on this lot at https://memorylaneinc.com/site/bids/bidplace?itemid=48725.
Sophisticated art has its Rembrandts/Picasso's, Coin collecting boasts its ultra-rare 1913 Liberty Nickel, and Stamp enthusiasts dream about possessing an "Inverted Jenny" airmail stamp. Indeed, these examples represent some of the most elusive treasures in the collecting community, and no one would argue that the highly celebrated T206 Honus Wagner tobacco card proudly stands tall as the ultimate baseball card extant.
While there are a vast number of hallowed keepsakes in the ever-growing card market such as the Baltimore News Ruth, 1952 Topps Mantle, T206 Ty Cobb Tobacco ad-back, Babe Ruth 1916 Rookie, T206 Plank and 1933 Goudey Lajoie (just to mention a few), none of these cards can possibly compete with the esoteric reverence of a T206 Wagner marvel. This unparalleled tobacco heirloom's stature stands far above any of its brethren, ultimately leading to its rightful designation as the "Holy Grail" of ALL sport cards.
One could not possibly fathom that when the great Pittsburgh Pirates shortstop Johannes Peter "Honus" Wagner allegedly instructed the American Tobacco Company (ATC) to withdraw his subject from T206 cigarette production over a century ago, it would eventually lead to the most coveted cardboard memento extant. One look at this miraculous cigarette artifact conjures up vivid memories of our National Pastime's most treasured moments, and why baseball has withstood the test of time.
You can literally hear the music of Jack Norworth's immortal "Take Me Out To The Ballgame" 1908 blockbuster song or recall the poetic justice of Ernest Thayer's timeless ballad "Casey At The Bat". It turns back the clock to an era when Ty Cobb, Christy Mathewson and Wagner himself were paving the way for a simple children's game to ultimately evolve into America's irrefutable National Pastime. It reminds us of how Babe Ruth and Mickey Mantle tested the limits of any ballpark's furthest confines.
It inspires us to reminisce about Joe DiMaggio's legendary 56-game hitting streak or Bobby Thompson's pennant-winning round tripper that sent New York Giants fans into an incredible frenzy. Yes, the T206 Wagner's imposing Carl Horner portrait image hypothetically links its infinite-like fan base to these and so many more miraculous moments from baseball's unparalleled history. No doubt, its unwavering presence resides as a sheer symbol of baseball treasure, effectively transcending the avid fan through a century of time.
Unfortunately for the collecting community, the T206 Wagner seldom surfaces for the taking, and when one does appear, its noteworthy price tag typically puts a strain on any household budget. Another major issue with capturing this timeless gem is that many of the existing examples provide poor aesthetics, and avid hobbyists surely realize that the hobby is now extremely focused on possessing high-end eye appeal cards. That said, Memory Lane is proud to offer this brilliant aesthetically pleasing T206 Wagner that resides in a PSA "Authentic" holder.
Professionally restored, it last sold in a public auction back in 2011 for $188K, but as our pricing trend graph presented later in this description clearly indicates, the T206 Wagner has skyrocketed in value in the past 7/8 years. Before going into specific details about the card itself and its related restoration, we feel it necessary to provide a detailed "walk-through" of the history of this majestic heirloom that has captured the imagination of a seemingly infinite number of passionate collectors.
History of the T206 Honus Wagner
The evolution of the immense popularity associated with the T206 Honus Wagner is the sheer foundation of its irrefutable "king of the hill" standing. While certainly scarce, there are many baseball cards claiming fewer known examples, yet their associated value does not even approach the stratospheric price tags affiliated with the T206 Wagner. The unbridled desire to capture one of these cardboard gems certainly originates from its celebrated ATC extinction, with a number of dubious tales linked to its early termination. Allegedly, Honus Wagner's disdain for utilizing his image to promote a tobacco product provoked him to have the card "pulled" from production. Interestingly enough, Wagner was noted for utilizing tobacco products, and as the story goes, it was his utmost disdain for actually promoting cigarettes to children that prompted him to have the ATC terminate his T206 subject.
The strongest evidence we have relating to Wagner withdrawing his T206 card stems from an article written in the Sporting News Magazine on October 4, 1912, whereby Wagner was sent a letter by a local representative to sign a form providing his consent to be included in the T206 set. Wagner provided a return letter to the representative stating he did not want his picture to be used in the set, as well as including a $10 check addressed to the representative, John Gruber, to compensate him for the money he would have received had Wagner granted his permission.
Some 43 years later, a similar article in the December 6, 1955 Cleveland Plain Dealer documented the original story, even stating that Gruber never cashed the $10 check, opting to frame it for reasons of historical significance. Due to Wagner's refusal to sign the permission form, the initial 150 subject printings did not include Wagner (e.g., Sovereign Cigarettes, etc.); yet inexplicably, the ATC decided to use his image in their later issued Sweet Caporal 150 Subjects, Factory 25 issues. Once Wagner became aware that Sweet Caporal cigarette packs included cards with his image, he immediately instructed the ATC to terminate his T206 subject and this immortal rarity was born.
Interestingly enough, the exact number of known T206 Honus Wagner's remains a somewhat vague issue. Hobby experts speculate the count to be approximately 50-60 (the combined SGC and PSA "pop" charts list 46 examples), but we know with 100% certainty that a number of un-graded/raw T206 Wagner's exist in private collections/museums, etc. Regardless of the exact count, its supreme hobby stature and unlimited investment potential cannot be overstated, unquestionably placing this iconic keepsake as the cornerstone of our illustrious hobby.
Condition Related Issues
Memory Lane "Re-presents" the Professionally Restored T206 Wagner As previously stated, the offered PSA Authentic example includes significant professional restoration and most recently sold at auction in 2011 after originally selling publicly for a reported $222K in 2009. The card's long-standing history can be traced back some 50 years to one of its original owners, Irv Lerner, who was a serious collector and author of the popular 1969 hobby publication "Who's Who in Baseball Card Collecting." True, while its original state included missing borders, paper loss on both sides (particularly the verso) and a dull orange hued background, the critical Wagner central image required virtually no restoration.
For full disclosure, its full restoration process actually included two cycles. After having its borders and paper loss beautifully enhanced via the conservator's meticulous grafting process, its 2009 auction winner chose to re-send the card to Graphics Conservation to have the already restored borders even further enhanced. The total restoration costs of the two invoices tallied $14K, with its final presented state resulting in this mesmerizing Wagner that now emanates breathtaking VG/EX aesthetics. The enhanced sunburst orange background is extremely bold and projects the iconic Carl Horner portrait image of Wagner in a world-class manner.
Near-perfect centering between the added upper and side borders, even corner wear reflecting VG/EX quality, and a virtually completely enhanced Sweet Caporal 150 Subject, Factory 25 verso complete this tobacco marvel that unquestionably now emanates some of the finest aesthetically pleasing attributes of any existing T206 Wagner. While the restoration aspect is truly a matter of subjectivity with regard to a collector's preference, what we can say with 100% certainty is that an abundance of sophisticated collectors have now switched gears and are emphatically more focused on purchasing cards reflecting spectacular eye appeal.
Simply stated, gazing at this museum worthy masterpiece inspires anyone to yearn for opening a pack of baseball cards or partaking in a sandlot "pick-up" game; enabling us to crave an unquenchable thirst to feel young once again. How this concept projects itself for the final sale price of this quintessential Wagner remains to be seen, with the advanced enthusiast needing to balance the aspects of its awe-inspiring appeal, right to own any T206 Wagner specimen and magnitude of restoration to ultimately determine its true worth.
Pricing Trends
Little did hobbyists realize that when a T206 Wagner sold for $25,000 at a Long Island New York sports card shop in 1985, the Wagner card would embark on an unprecedented journey to the top of the baseball card market. In fact, it is common hobby knowledge that this same card would eventually find itself in a PSA 8 holder, with its last selling price a staggering $2.8 Million! It is no secret that the hobby is currently realizing stratospheric pricing surges for its most iconic cards, with these treasured keepsakes reflecting amazing pricing point up-ticks and unlimited investment potential. So what does that say for the T206 Wagner that suffices as the hobby's quintessential cardboard issue, and a card whose stature will stand the "test of time"?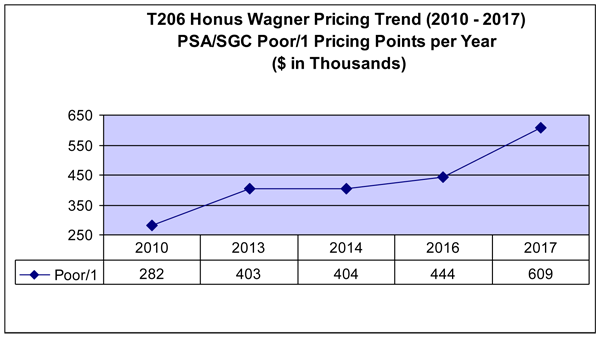 A strong example of its bona-fide investment potential is the exalted PSA 5/MC "Jumbo" Wagner that sold for $1,620K in 2008, $2,106K in 2013 and a record setting $3,120K in 2016, with its $3,120K price tag representing an incredible 93% ($1,500K) increase in an 8-year span! Unfortunately, it is virtually impossible to show a pricing trend for 'Authentic" specimens over the past 8 years since only a couple of "Authentics" have sold in that period (with one of those few examples being a formidable $263K sale of an "Authentic" borderless Wagner in 2010). Therefore, in order to "paint a picture" of the overall T206 Wagner bona-fide pricing increase, we have chosen the next best thing versus an "Authentic" grade trend, a series of sales for "Poor/1″ specimens.
The following chart lists five individual sales of PSA/SGC Poor/1 T206 Wagners over the past 8 years with specific sales for years 2010 (PSA), 2013 (PSA), 2014 (PSA), 2016 (SGC) and 2017 (PSA): As one can clearly see, the $609K 2017 sale reflects a staggering $327K or 116% increase over the 2010 $282K mark and a $165K or 37% up-tick over the previous year's $444K sale. While not reflected on this particular graph, other grades have likewise experienced significant growth. With regard to 'VG" specimens, the 2015 $1,320 auction sale represented an unfathomable $864K or 189% spike vs. the GAI 3.5 specimen that sold for $456K in 2005.
Additionally, the other sales for "VG" examples portray a "steady" pricing up-tick trend over an extended period of time, with the five reported "VG" public sales reflecting an 81% increase from 2005 to 2008, a 12% spike from 2008 to 2009, a 33% jump from 2009 to 2012, and a 7% spike from 2012 to 2015. While we can only speculate what the future holds for the sanctified T206 Honus Wagner card, these extraordinary pricing surges coupled with the card market's overall rising prices strongly supports the perception that these tsunami-like increases will continue over an extended period of time.
Closing Comments
No one would have ever fathomed that a single baseball card from a cigarette pack would eventually become the uncontested cornerstone of our majestic hobby. True, Honus Wagner's standing in our National Pastime's glorious history is forever solidified by his irrefutable status as baseball's greatest shortstop; with baseball writers accurately recognizing this concept when in 1936 they chose the 'Flying Dutchman" as one of their five charter members to enter baseball's illustrious Hall of Fame.
Yet his iconic image on this grandeur offering goes far beyond his diamond achievements, with its immortal reverence elevating the card market to stratospheric heights. Simply stated, the T206 Honus Wagner miraculously transcends each and every enthusiast back to the "turn of the 20th century" when the concept of a "palm-sized" tobacco card fetching millions of dollars was an inconceivable concept.
Yet, over a century of time, not only has the T206 Wagner materialized into the hobby's irrefutable foremost collectible, but has achieved world-wide stature with even NON-hobby investors painstakingly pursuing this cardboard icon. What the aforementioned historical trend substantiates is that the T206 Wagner may not have even touched the "tip of the iceberg" with regard to its seemingly unlimited investment potential.
Safe to say, "it knows no boundaries", and while the most sophisticated economists cannot forecast the future with 100% accuracy, this remarkable cardboard heirloom resides as one of the globe's most solidified assets. Even in lieu of its vast restoration, this magnificent aesthetically pleasing T206 Wagner would proudly serve as a momentous "Trophy Piece" in any world-class gathering due to its undisputable standing as the card hobby's pinnacle memento to "echo for eternity"!