Beckett Auctions May 7-17, 2015  "Hobby Legends Auction" sports card and memorabilia auction is in progress! Check out all these amazing items including: The Texas T-Card Find, The Benanti Collection, Rare 1 of 1 cards, vintage graded cards, autographs and more!  Over 1000 items up for bid!  Bid, register and view items at auctions.beckett.com.
Lot No. 1 features a key piece from The Benanti Collection, which is a 1968 Topps Test 3-D Framed Proof Sheet(Non-Lenticular color test) that features eight cut signatures, including Roberto Clemente. Also, making a return to the auction block is the famous 2005 SP Legendary Cuts Dual Autograph of Babe Ruth and Harry Frazee, a 1/1, which is a card that links the two principles in the most lopsided transaction in sports history.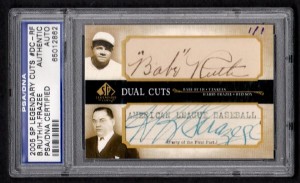 Looking for something in the Non-Sport category? Check out the 2004 Upper Deck History of the United States Presidential Cut George Washington Autograph 1/1.  That is just a taste of the incredible items available in the Beckett May auction, running now through May 17 at 9 p.m. Central, with a 15-minute extended bidding window on certain items.
Among the other highlights are several Kris Bryant autographed items, "The Power Nine" Magic: The Gathering Gaming cards, a Michael Jordan 1997-98 Flair Showcase Legacy Collection BGS 10 and some newly added items from the Texas T-Card Find.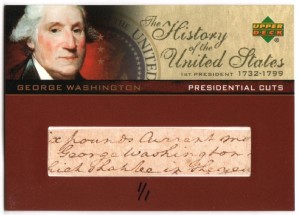 Other highlights include:
1968 Topps 3-D Framed Proof Sheet (Non-Lenticular Color Test) with 8 Cut Signatures Including Roberto Clemente w/JSA Authentication From The Benanti Collection
Babe Ruth/Harry Frazee 2005 SP Legendary Cuts Autograph Dual Cuts #'d 1/1 w/PSA-DNA Authentication
Michael Jordan 1997-98 Flair Showcase Legacy Collection Row 0 #'d/100 – BGS 10 Pristine – Pop Report 1 of 1
Jordan Spieth Autographed 2014 Masters Pin Flag w/ JSA Authentication
1993 Magic: The Gathering Alpha Black Lotus – Power Nine – BGS 8
Marcus Mariota 2015 Leaf Metal Draft Prismatic Green #'d 10/10 – BGS 9.5/Auto 10 (Gem Mint)
Tiger Woods, Jack Nicklaus, and Arnold Palmer Triple Autographed Framed Piece #'d 55/150 w/ UDA Authentication
Mickey Mantle 1956 Topps #135 BVG 5 (Excellent)
George Washington 2004 Upper Deck History of the United States Presidential Cuts – Cut Signature Autograph #'d 1/1
For a complete look at all of our items, please take a look at our full catalog. New users are encouraged to registerhere.