To all of our friends and customers of Memory Lane Inc, with the Find Auction we have also launched our new website which brings new design and functionalities based on our previous online experience and your great feedback.  With the introduction of our new top navigation, we sought to bring together all the links needed to get around the site and the auction in one place for easier use.
Your Personal Auction Account Navigation has been incorporatated into it as well and it is conveniently located in place of the "Login" link once a user is signed into the Auction. The images below describe the change in detail.
Location in the previous site
On the previous website your personal auction navigation used to appear, after login right under the main navigation in the header of the page.

Location in the new website main navigation
In the new website the Login link is part of the top main navigation and it's highlighted in yellow.

Once you have logged in and entered the auction you will notice that a My LInksmenu has replaced the Login in the same spot.

Clicking on My LInks will drop the persistent menu containing all the links to the pages you already are familiar with and it also includes the Logout as the last of the list.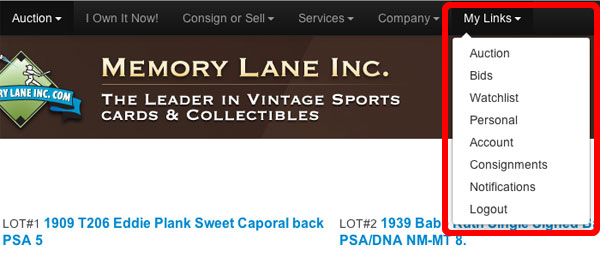 We hope this feature will enhance your experience on the auction site so please don't hesitate to contact us with any comments or suggestions you might have.
All the best and Happy Bidding!
The Memory Lane Inc. team.
Connect with us on Facebook
©2012 Memory Lane Inc.
12831 Newport Avenue Suite 180, Tustin CA 92780