PSA/DNA Authentication Services (www.PSADNA.com) has now added an embedded hologram to its certificates of authenticity (COA), providing customers with the same unprecedented technological advance that PSA added to its letters of authenticity (LOA) last fall.
PSA/DNA issues four types of COAs: its regular PSA/DNA certificate, signed-in-the-presence certificates for autographs witnessed by PSA representatives as well as RookieBall™ and RookieGraph™ autograph COAs. All four types of PSA/DNA COAs now have the embedded PSA/DNA logo hologram.
"We're always looking at ways to improve security features of our products, and this is another major stop in combating counterfeits," said PSA/DNA President Joe Orlando. "The complexity of the embedded hologram technology took a long time to plan and implement, and it's a major deterrent to counterfeiters."
The detailed, color-changing PSA/DNA logo hologram on the COA is actually embedded into each sheet of paper used when generating PSA/DNA certificates of authenticity.
"It's not a mere sticker placed on top of the page, but rather the hologram is actually part of the paper itself," explained Orlando. "Counterfeiters would have to illegally replicate the trademarked hologram and spend a huge amount of money to manufacture the paper. There is no other third-party authentication service that uses this level of technology to offer advanced protection for collectors and dealers."
Founded by Professional Sports Authenticator (PSA) in 1998 in response to widespread counterfeiting, forgery and piracy of autographed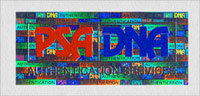 collectibles, today PSA/DNA Authentication Services is the world's leading third-party authentication service for autographs and memorabilia. With over 19 million collectibles certified and valued at over $1 billion, PSA represents the industry standard in third-party authentication and grading. PSA and PSA/DNA are divisions of Collectors Universe, Inc. (NASDAQ: CLCT).
For additional information about PSA/DNA Authentication Services, visit online at www.PSADNA.com or call Customer Service at (800) 325-1121.